Buy1 Take1 Promo - Smart Travel Bottle
SALE & Discounted Promo Ends in:
No more fluid leakage in your travel luggage ever again!
The Smart Travel Bottle, unique and innovative design, with 4 refillable travel bottles in a travel bottle, this clever design prevents leakage during movement and is suitable for most liquids and lotions.Leak-proof design can help control the amount of liquid extrusion, wide mouth, easy to refill, firm and tight, good sealing effect, no leakage of liquid, no pollution of your luggage or clothing.
Space-saving, compact and reasonable, safe and durable, it can be reused, no need to bring a large bottle of cosmetics, enjoy the journey, camping, fitness or swimming.Easy to carry, easy to pack, reasonably distribute your own cosmetics and toiletries in this 4-in-1 Leak Proof Portable Travel Bottle Storage.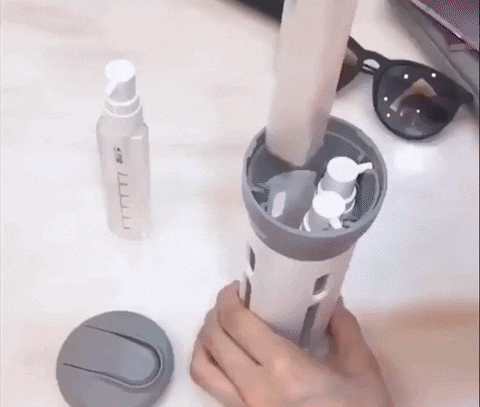 It is easy to carry and made with a leak-proof design that gives you that perfect traveling kit and comfort that you deserve.
FEATURES:
Unique Smart Travel Bottle 4 refillable travel bottles in one case, portable & lightweight.
EASY TO CARRY Perfect for your travel or business trip.
LEAKPROOF The clever sealing leakproof design can 100% make travel bottles leak-proof.
BIG CAPACITY Each bottle has a capacity of 40ml and is TSA compliant with carryon rules for international travel. 
EASY TO ORGANIZED & SWITCH Switch between each bottle through rotating and just a single press to spray.
SPECIFICATIONS:
 •Material: Food Grade PET, ABS,PC
 •Size: 7cm x 7cm x 17cm
PACKAGE INCLUDES:
 •1 x Smart Travel Bottle
 •4 x Small Bottle Container
Important Notes:

We don't want you to miss out our Sale!!
Get Yours Now Thru Cash on Delivery! 
Take Advantage of this Special Offer Now Before the Price Increases!